Dementia NI members have been working with CIYMS Tennis Club, Belfast to develop Dementia Inclusive Tennis Sessions. These sessions are aimed at people with dementia, however, carers and loved ones are also welcomed to participate.
CIYMS Tennis formed an outreach department in Autumn 2017 to reach out to the entire local community, and in particular, those who might not have thought tennis was for them, or even possible.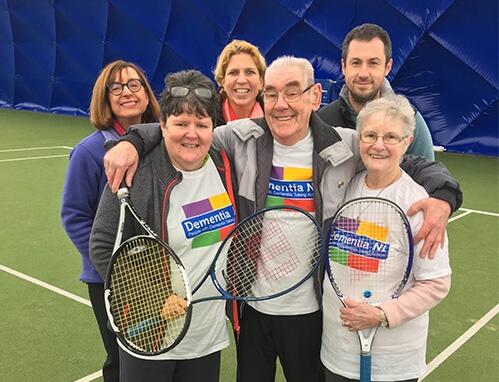 Learn tennis from scratch!
FREE OF CHARGE
All weather tennis, covered courts.
ALL ABILITIES WELCOME.
Dementia NI member, Allison Batchelor encourages others to get involved,
"The Dementia Inclusive tennis was an opportunity for me to do something completely different. It was proof that I was still able to learn and develop new skills even after my diagnosis. I enjoy the gentle exercise and the social side of being given the chance to meet new people. The volunteers have learned more about dementia and how they can help support people like me remain within the community. To me this gives me hope that another group of people see that those living with dementia are still trying to remain active and included within society. I would encourage others to get involved, the tennis is for everybody at any level, the volunteers are very accommodating and will adapt to suit each individual's personal needs."
For more information on Dementia Inclusive Tennis, please contact Jane McComb, CIYMS Outreach Manager on 07833 721 865 or email outreach@ciymstennisclub.co.uk to learn how to become involved.
*** Please note due to current COVID restrictions, this project is currently postponed until further notice. ***