We're thrilled to announce that local racing champion Colin Turkington and delivery firm Breezemount have teamed up to steer Dementia NI into the spotlight! Colin Turkington and Breezemount have today confirmed their 9th year of partnership for the 2023 British Touring Car Championship, but this year plan to use the BTCC platform to raise awareness for Dementia NI.
A PLATFORM TO HELP US DRIVE POSITIVE CHANGE
In a hugely charitable act, Breezemount Home Delivery have vacated their prominent branding spot on Colin's Team BMW race car and kit to make way for the Dementia NI logo. This move will put us into pole position in front of the enormous British Touring Car Championship audience and provide a platform to help drive positive change and reduce the stigma of dementia.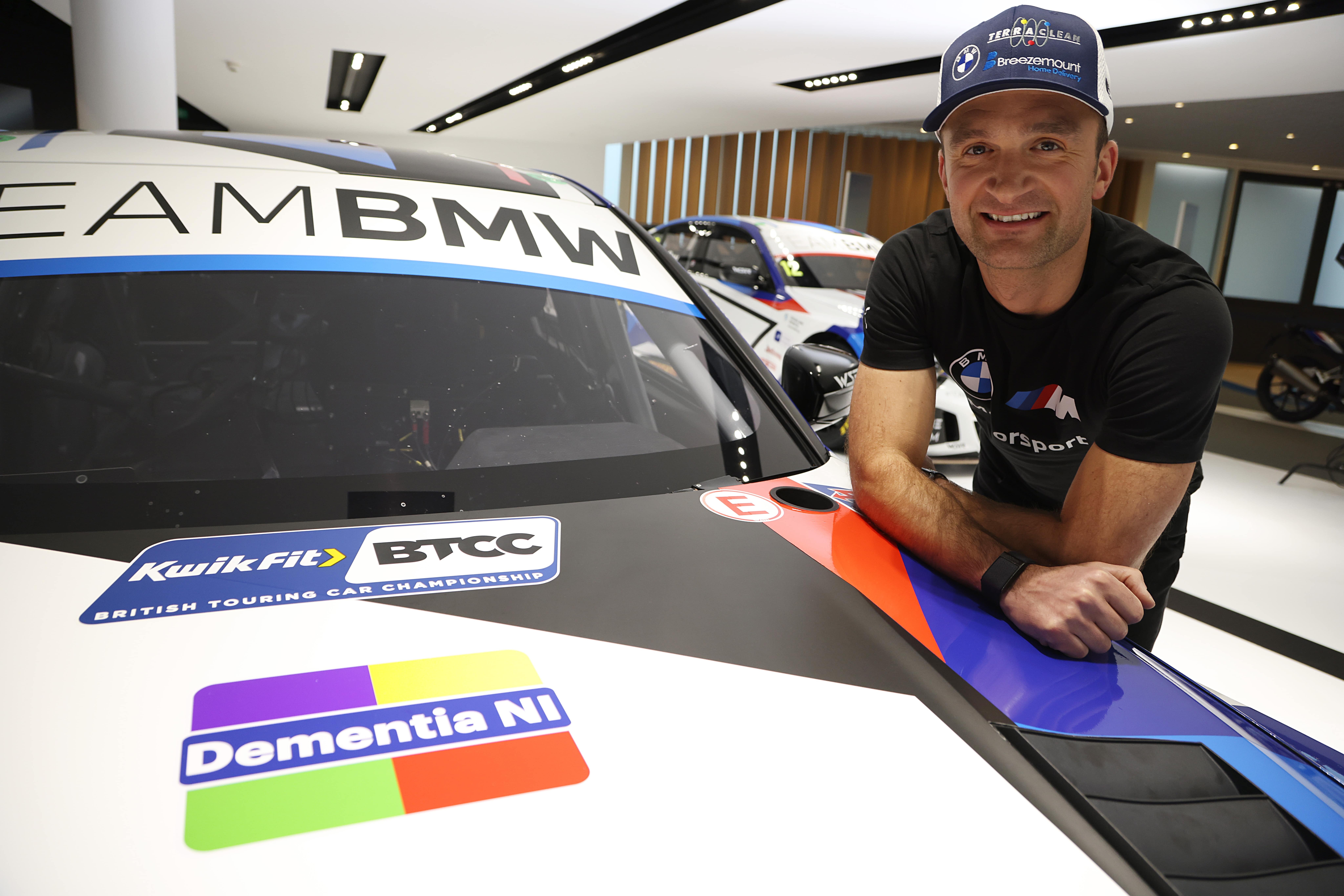 Breezemount Home Delivery are one of UK and IRE's leading 2-person home delivery service provider and have followed the success story of Colin Turkington's BTCC career with keen enthusiasm for the past decade. After being touched on a personal level by dementia, the business opted to use their relationship with the four-time champion to shine the spotlight on the incredible work being carried out by the Northern Irish charity.
HONOURED TO BE PARTNERING WITH COLIN
Dementia NI is a local member-led charity driving positive change for people living with dementia. By raising awareness, they challenge the stigma of having a diagnosis and offer valuable and priceless support to those who are affected. Humbled by the Breezemount generosity, Karen Kerr, Head of Fundraising, is excited by the platform they have been gifted.
"Dementia NI is honoured to be part of this exciting initiative with Colin Turkington, and his sponsor Breezemount. Through this, Colin is helping to raise awareness of dementia, reduce stigma and highlight the importance of people with dementia having their voice heard and driving positive change. We are delighted that Colin is using his incredible achievements and profile as four times BTCC Champion to support and raise awareness to help make an impact for people living with dementia across Northern Ireland where he grew up. We wish Colin and his team every success for the coming season."
ENCOURAGING CONVERSATION ABOUT DEMENTIA
Colin Turkington agrees the visibility given to the charity, will hopefully encourage the conversation about dementia in homes around the country.
"The support Breezemount have shown to my BTCC campaigns since 2015 has been incredible and their loyal involvement allows me to perform to my best year on year. We jumped at the chance to help Aaron [Shields – Group Managing Director] generate awareness for Dementia NI and what a wonderful story to be a part of! I'm sure we all can think of someone or a family that has been touched by Dementia, and to champion a Northern Irish organisation who are doing fantastic things to help and support those needing it, is something I'm thrilled to be able to do. Motorsport is such a family sport, and it generates some fantastic memories for people to share together. Hopefully we can put on a great show this year and help make more memorable moments for NI and the wider community."
WORKING TOGETHER TO RAISE AWARENESS
"Breezemount are delighted to extend our partnership with Colin for the 2023 British Touring Car Championship and look forward to the racing season ahead," said Group Managing Director Aaron Shields, "We're proud to be able to provide this opportunity for Dementia NI and to play a part in helping raising awareness for both Dementia and the great work Dementia NI do. As a family we've been personally touched by Dementia in recent years and are humbled to be able to support this initiative through our relationship with Colin."
The Kwik Fit British Touring Car Championship kicks off at Donington Park on the 22nd and 23rd April followed by 9 more exhilarating race weekends throughout the year. Colin Turkington revealed his 2023 look at BMW UK headquarters earlier this week and has begun his pre-season testing programme. The official launch day of the BTCC season will take place on 12th April at Brands Hatch in Kent. Driving a Team BMW 330e M Sport race car, the four-time champion is the joint most successful driver in the history of the series and remains the German marques most successful racing car driver in his 11 years behind the wheel of a BMW.
We would like to say a huge thank you to Colin and the team for helping us to drive positive change for Dementia NI and wish him every success in the coming season!
To find out more about Dementia NI, go here: https://www.dementiani.org/who...
To keep up to speed with all things Colin Turkington, visit his website: https://colinturkington.com/ne...
*Official statistic provided by TOCA in 2023 marketing brochure