Challenging the stigma of dementia and empowering local people with dementia is an important part of what we do at Dementia NI. Recently some of our members, all of whom live with dementia, explained that they were experiencing negative attitudes from members of the public due to a lack of understanding of dementia and that this was making it harder for them to access support in the community. We agreed it was important to find a practical way to address this.
Several members shared stories of not being believed when they explain they have a diagnosis of dementia because they don't fit the public's perception of what dementia is. For example, not all people with dementia are older - early onset dementia is experienced by people under 65 - and many people with a diagnosis continue to lead independent lives and stay connected to their communities. Dementia affects people in different ways and is not always easy to notice.
A person with dementia may need support when they are out in the community. And it's vital that when they explain their diagnosis and ask for help, they're treated with respect and dignity and given the support they need.
Our members felt a simple Dementia NI Photo ID Card to show that they have a dementia diagnosis would help them when they are out and about. The cards can be handed to someone when they need help with daily activities to make it easier for the person to get support while still staying independent.
Although other dementia help cards are available, our members felt that photographic ID cards would hold more credibility and be the most effective way to get support from others without having to explain their diagnosis.
Having agreed with our members to develop the ID Cards, we sought input from them on the design, colours, and information featured on the card.
We have now sent photographic ID cards to all our members and thank them for campaigning to bring about this useful tool that makes it easier for people with dementia to communicate about their diagnosis.
Dementia NI Empowerment Officer Ashleigh Davis says, "We're so proud of our members for initiating this change. The ID Card will have a significant impact on members' day-to-day lives. They can now present the card to discreetly identify to others that they may need support, help or just a little more time."
As we work towards building communities that are more welcoming towards people with dementia, small changes like this can help to make a big difference. Well done to all our members on this fantastic achievement!
The following are just some of the experiences our members shared with us. They show how misconceptions around dementia can prevent people living with dementia from getting the support they need...
Dementia stigma in hospitals and the PIP system: Stephen Kennedy's story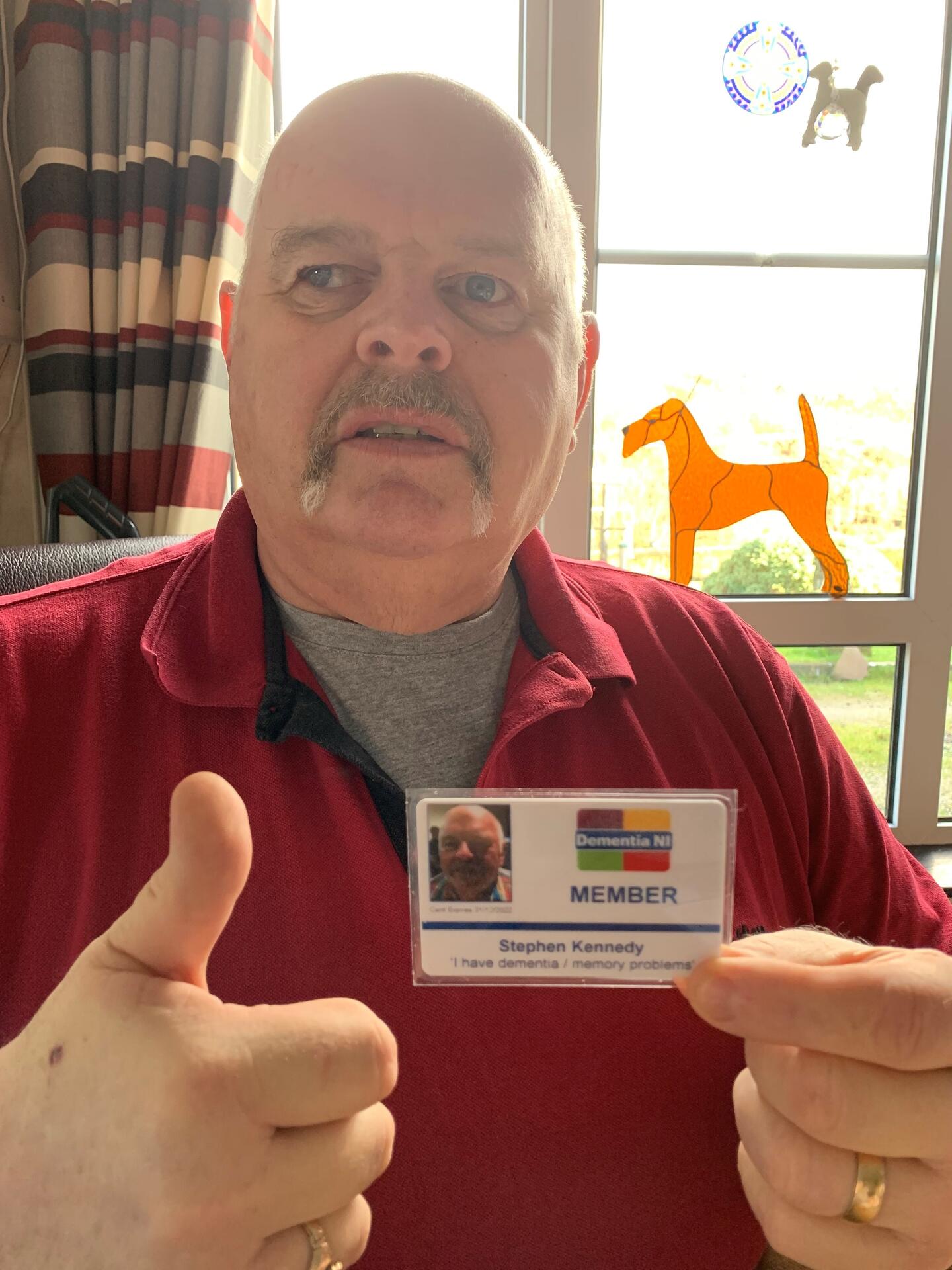 "I've faced a lack of understanding about dementia in the health service. At the start of Covid-19, I had a few hospital appointments and my wife Carmel wasn't allowed to come in with me. This was difficult for me because as soon as I left the appointment, the information went out of my head! I explained to the staff that I have dementia and that Carmel is a registered carer - but it made no difference. Now I just produce the ID card and Carmel is allowed in - but I shouldn't really have to prove myself.
"Sadly, when I was diagnosed, I had to give up work. I found that going through the PIP process made me feel small. I felt that things were stacked against me because I didn't fit the public's perception of dementia, which is usually of an elderly person in a nursing home. Some people find it hard to believe that people with dementia can be out and about - but Dementia NI gives us that support to maintain our independence.

"An understanding attitude towards dementia can make a huge difference to our day-to-day lives. I don't do crowds well or loud voices. As the day goes on and the noise rises, I need quiet space. I'm quite forthright and if I'm in a public space I will say to someone in charge, "I have dementia, is there anywhere I can sit for five minutes in a quiet room?" Before they would sometimes look at me in disbelief. Now I show them the ID card and they trust it more because it's not just words.
"People don't understand that if you have dementia you can still be independent and get out and about. It's important that we don't stay home on our own and shrink down into ourselves and go to a dark place. Simple steps like the ID cards make life easier and can help to change people's attitudes to those of us with dementia."
Dementia stigma in shops and public spaces: Martin Murtagh's story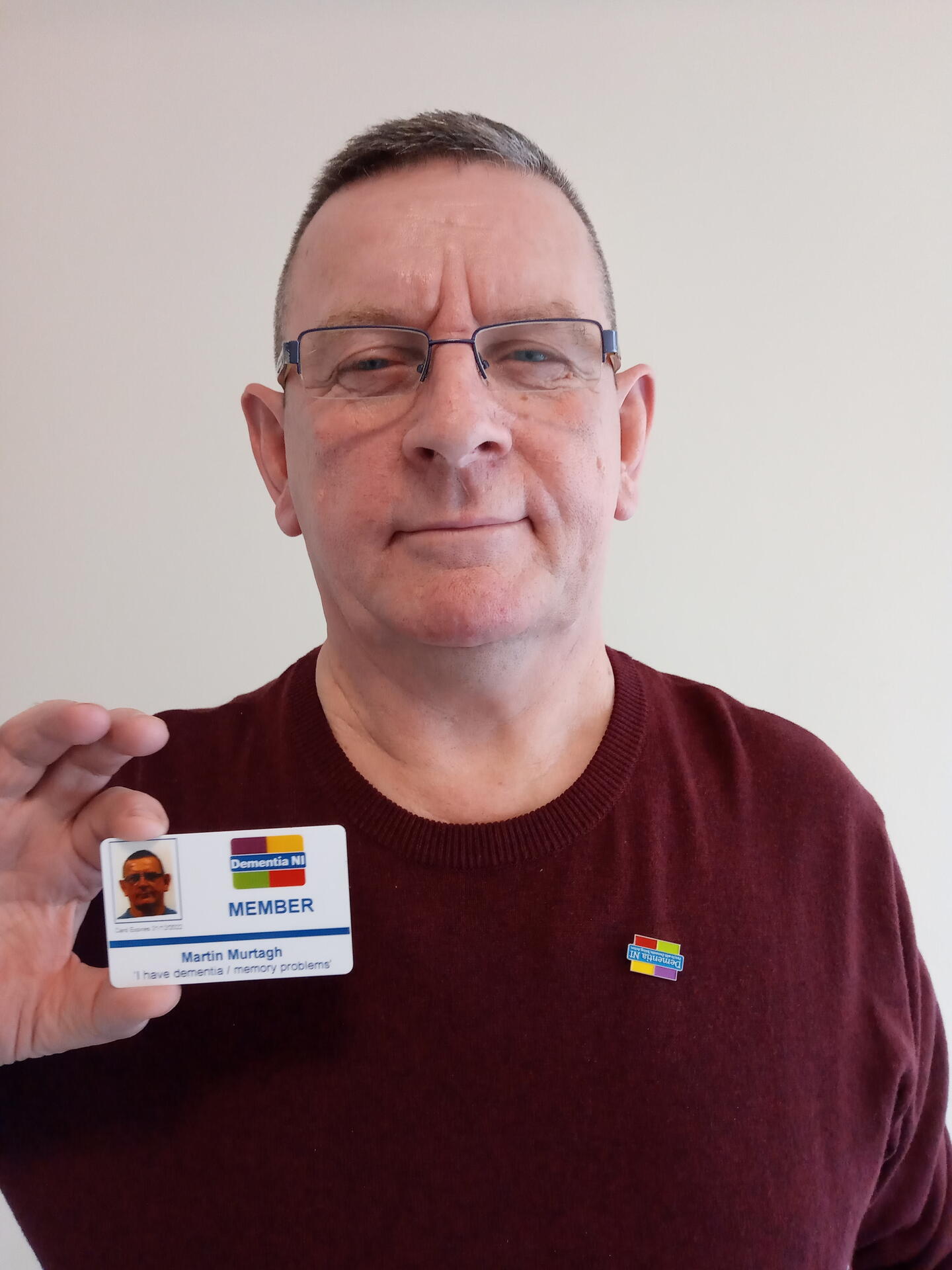 "Dementia is hidden, you can't tell someone has it and people don't believe you when you tell them you have it. I love shopping but it can be stressful at times. In the supermarket queue people can stand close and get frustrated if you take too long. I just say, 'Could you give me a minute? I have dementia'. But they look at me like I'm pulling their leg because in their eyes I don't look like I have dementia!
"I've used my new photo ID card in Belfast city centre and Abbey Centre when I'm out shopping with my sons. If I get stuck with my words when I'm talking to strangers, I can feel flustered and need to calm down in those situations. My son will just say, 'Take your time dad and show them your card' and the reaction has always been good. Once people see the photo ID they know you're genuine and need them to be understanding.
"I can see people's attitudes are changing towards those of us with dementia. I was in a clothes shop in the city centre recently looking for a pair of jeans. On that day, I wasn't feeling too good. I showed my ID card to a girl on the shop floor. She helped me with sizes and prices and helped me make an order - which was smashing! I love being independent but there are times when I need to ask for support and it's great when people accept your diagnosis and do what they can to help.
"Society needs to change. With dementia, nobody knows you have it because you look like everyone else. Not enough people understand it and they don't expect you to be out and about in your local community. The public need to be told more about what we go through and how dementia affects us."
Click here to read more about the work our members do to help local people with dementia to live well.