Back to News
Footballing Legends Raise Money For Dementia NI And Meet Our Members At Spirit Of '82 Event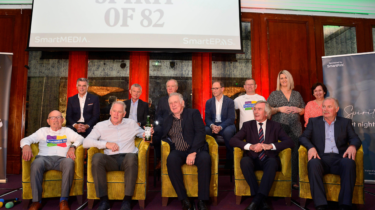 Last Saturday 25th June, some of Northern Ireland's most iconic footballers reunited to raise funds for Dementia NI at the Spirit of '82 event at Belfast's Europa Hotel. And our members Martin Murtagh and Norman Buchanan, who are massive football fans, got the chance to live a dream and meet the players!
The event was held to celebrate the 40th anniversary of the 1982 Northern Ireland squad's World Cup victory over Spain, which earned the team a place in the quarter finals. Players from the 1982 squad reunited to raise money for Dementia NI in memory of their good friend and teammate, legendary NI manager Billy Bingham, who had been living with dementia for 16 years when he passed away earlier this year.
We were overjoyed that the likes of Gerry Armstrong, Pat Jennings and Martin O'Neill decided to fundraise for Dementia NI through this event, which was hosted by the BBC's Stephen Watson. The evening was an incredible success and featured speeches, a band, a Q&A session with the players and an auction.
Martin and Norman, who live with dementia, met the players and were not disappointed.
"To see these legendary footballers like Pat Jennings raising money for Dementia NI and taking time out to chat to Norman and I was just brilliant," says Martin, who is a big Manchester United fan. "I was starstruck! I told them that I live with a diagnosis of dementia and thanked them for selecting to support Dementia NI. I also talked to them about playing amateur football when I was younger and they really took an interest. All the players signed our Dementia NI T-shirts and the photos with them are something I will treasure forever."
"It was a tremendous night," adds Norman, who has played amateur football for Bangor, Cliftonville and Dunmurry Young Men FC. "All the players were dead on. They couldn't have been more warm and friendly. Talking to Martin O'Neill was like talking to one of the lads! I'm a bigtime football fan and I couldn't believe it, I had to pinch myself."
"I played amateur football with Gerry Armstrong when I was younger and we had a good yarn about his training," continues Norman. "Gerry was always very quick on his feet and left everyone sitting. The night of that big match in 1982 I was at a do in the Stagecoach Inn and when he scored the winning goal the place went crazy! It was fantastic to see Gerry and the rest of the lads supporting Dementia NI."
All the money raised on the night will stay local and go towards empowering people with a diagnosis of dementia to have their voices heard and live well.
We would like to give a huge thanks to everyone involved in this fantastic night of fundraising for Dementia NI. We'll remember this for a long time to come!