Back to News
High Sheriff Joins Us in Raising Awareness of Herbert Protocol With Event at Belfast City Hall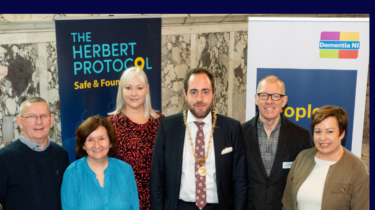 The Dementia NI team hosted a special event at Belfast City Hall today (October 20th) to raise awareness of the Hebert Protocol, a nationwide initiative to help people with dementia to stay safe and independent.
The High Sheriff of Belfast, Councillor John Hussey, opened the event which aimed to highlight the importance of the Herbert Protocol, a joint initiative we have launched with the PSNI, the Department of Health and the Policing and Community Safety Partnerships. The Herbert Protocol encourages people with dementia and their families and carers to gather vital information which can be used should a person with dementia go missing.
MLAs including Paula Bradshaw, as well as local councillors and health and social care professionals, attended and were asked to share Herbert Protocol resources with the people they meet and within their organisations.
As part of this special event, Belfast City Hall was illuminated in Dementia NI red and yellow to highlight the occasion.
Dementia NI members Martin Murtagh and Gerard Doran shared their insights about what it's like to become disorientated and go missing when you live with dementia. Then Temra Neill and Lisa Sherman from the PSNI discussed how the Herbert Protocol speeds up a police search for a missing person with dementia.
Attendees were shown our short film about the Herbert Protocol which captures the experiences of our members.
The High Sheriff said: "Nothing is more worrying than when a loved one goes missing or doesn't return home, so I was delighted to help Dementia NI host this special event in support of the Herbert Protocol and its roll out across Northern Ireland.
"I encourage everyone across Belfast who is living with dementia, as well as their families, friends and carers, to download the form, complete it and store it to help the PSNI in the event a loved one goes missing.
"There are more than 20,000 people across Northern Ireland living with dementia and it's great that Dementia NI is leading the way in providing the tools they need to stay safe and independent.
"I'm so impressed with the work that Dementia NI is doing, not just with the Herbert Protocol, but how everything they do is underpinned by their aim to empower local people with dementia to live well for as long as possible.
"I'm delighted to give them my support and shine a spotlight on this fantastic initiative."

Stephanie Green, Development Manager at Dementia NI, said: "We were keen to really get the message out that the Herbert Protocol has come to Northern Ireland, so we were delighted to get permission from the High Sheriff to hold this fantastic event at City Hall.
"Around 70% of people with dementia may go missing at least once, with many at risk of going missing multiple times. Tragically, half of all people with dementia who go missing for 24 hours or more become seriously injured or die.
"Dementia NI members observed that Northern Ireland was lacking support for people with dementia who are at risk of going missing. So they contacted the PSNI who agreed to help us launch Herbert Protocol here.
We were pleased to see so many MLAs, councillors and health professionals attending the event and discussing the Herbert Protocol. We hope they will share our resources about the Herbert Protocol with the people they meet and within their organisations."