When I found out that I would be taking up the baton for the Commonwealth Games on behalf of Dementia NI, I was overwhelmed! It was such a surprise. I felt so humbled and honoured to be asked to take part.
This was not something I could ever have imagined would happen when I started the charity with the other Founding Members around ten years ago. Being a baton bearer is a one-off opportunity most people don't get in their lifetime. But this wasn't about me. I hoped that by taking up the baton and sharing my experiences, I would give other people with dementia the confidence to keep going because I know what they're going through.
When I arrived at the Belfast offices of PwC to receive the baton, I felt excited and nervous. There were a lot of people there from all sections of the community and I was in the middle of it! I chatted to as many people as I could and told them all about what Dementia NI do. People were so interested in our work, it was fantastic.

I remember Dame Mary Peters coming over to greet me. She had something in her hand and I realised it was the baton and she was going to present it to me. I couldn't believe it. To meet someone as famous as Dame Mary Peters and to represent Dementia NI on such a big stage was mind-blowing. She said a few words to me but I was so carried away I can't remember what she said! There were a lot of camera flashes but that didn't bother me. I just tried to take things as they came.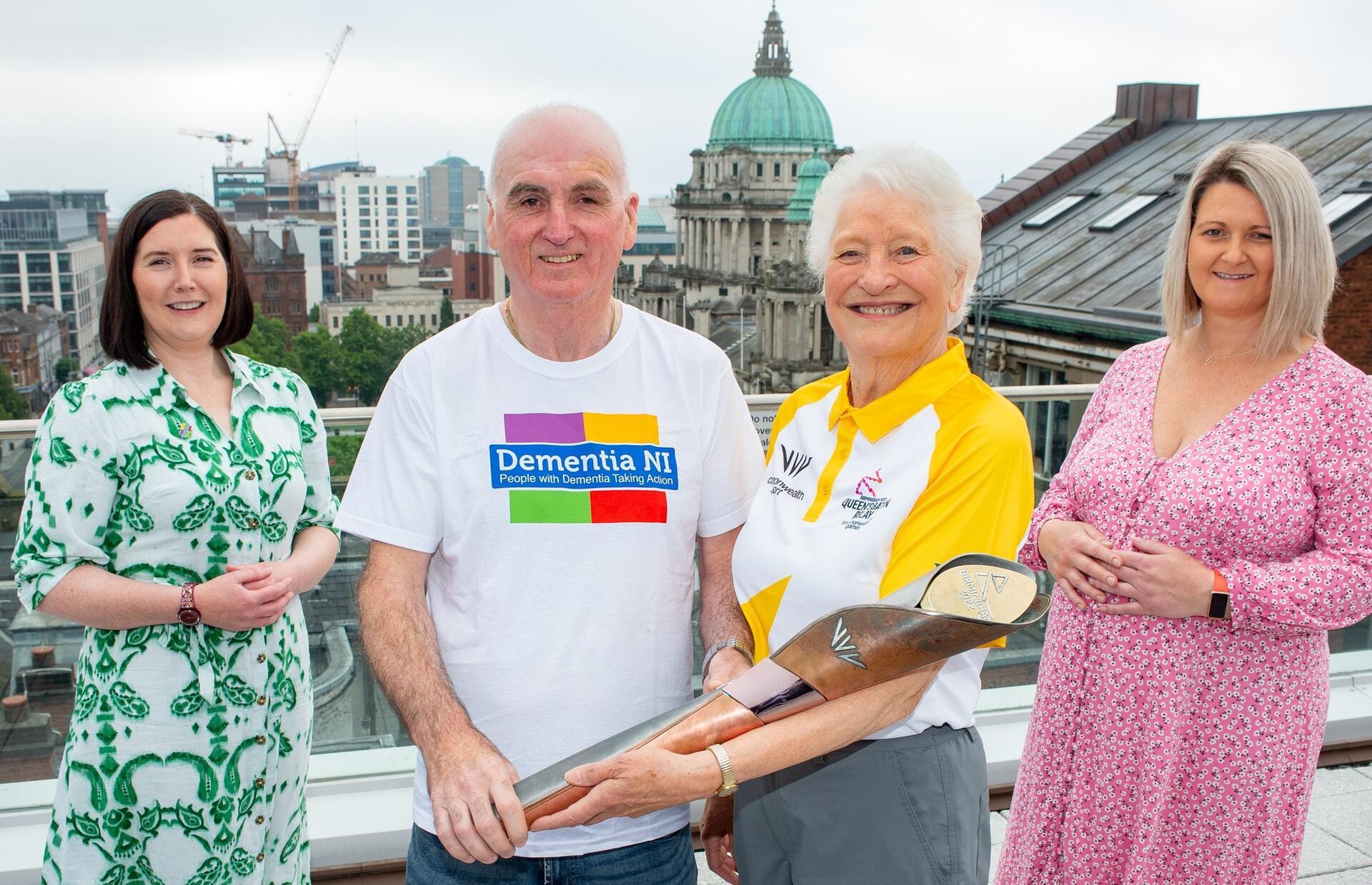 Later, the UTV cameras arrived to interview me and wanted to know about the background of Dementia NI. It was fantastic to raise the profile of the charity in this way. I had Clare [Dementia NI CEO] and Ashleigh [Empowerment Lead] with me who were a great support on the day so I had no fears of getting it wrong.

The morning passed very quickly and before I knew it, the baton was whisked away and it was all over! I know my family would have been proud although we're not the type of family to be open about things. Initially my family were like many families - they found it hard to accept my dementia - but as the years have gone on they have come to terms with my diagnosis and what I do.
I feel proud that I was able to raise the profile of the charity in this way. I ran into a friend this morning and he must've seen me on TV because he said "Next stop Hollywood!"
Honestly, though, I am hoping that being a baton bearer is another small step to the next stage for Dementia NI. We're growing all the time and I see this as another milestone - a big one - towards reaching out to more people who may struggling to accept their diagnosis and showing that you can achieve things.
Now I'm trying to get back to normality and get on with things. As the Co-Chair of Dementia NI's Board Of Directors, I'm always busy with something, whether it's board meetings or financial meetings or something else. There is so much going on in the background week-to-week. There are full on decisions to be made and it's a big responsibility.
I never thought my life would take this journey. It has been an incredible journey for me even with the diagnosis of dementia. What keeps me going is helping people to get out of that dark place. Dementia affects every single person differently. It changes your whole life and it's important not to sit back and let yourself get into a dark place. Having something to strive for and look forward to, even something small, is so important so that's why I keep looking forward.
Click here to find out more about how John and the four other Founding Members formed Dementia NI.