Today we bid a sad but fond farewell to our dear friend and Dementia NI member Liz Cunningham.
Liz was an absolute inspiration to so many people with dementia and an active and well-loved member of Dementia NI right from our charity's humble beginnings in 2015. We are hugely grateful for her support and friendship.
Liz, who was diagnosed with early onset Alzheimer's with Posterior Cortical Atrophy at the age of 48, worked tirelessly as a Dementia NI member to challenge the stigma of dementia. She used her professional skills to the fullest by training healthcare staff and organisations on what it's like to live with dementia, informing them on what changes they should make to improve their services, policies and practices for people living with dementia.
"I want to talk to groups and provide information about dementia. I want to help others understand what it is like to live with dementia," said Liz. "For me, quality of life is not about having dementia, it's about having a life worth living. Find strength from within and live each day as it's your last."
Ashleigh Davis, Dementia NI Empowerment Lead says, "Liz became a dear friend to everyone who joined as a member of Dementia NI over the years. Her sunny disposition and zest for life was infectious, she was fun and mischievous but always thought of others and put them before herself.
"Since becoming involved with Dementia NI in 2015, she reached out her hand of friendship and offered her support to countless individuals who had been recently diagnosed, helping them come to terms with their diagnosis, welcoming them to our Empowerment Groups, putting them at ease and reassuring them that despite their diagnosis, life was still for living.
"Liz's encouragement in turn helped others build the confidence to share their own personal stories. She stated, 'I'm not here to be the face of everybody else with dementia, I want them to speak for themselves.'"
Dementia NI Member Martin Murtagh says Liz helped him to come to terms with his dementia diagnosis. "When I first joined Dementia NI as a member, Liz was one of the first people I was introduced to," says Martin. "At my first Empowerment Group, Liz put me at ease and helped me to be part of group. After that we became good friends. She was a fantastic ambassador for people with dementia and I loved working with her to raise awareness. Liz was a truly special person and will be sadly missed."
As well as being a devoted wife, mother and grandmother, Liz was very dedicated to her work in raising awareness and making positive changes for people diagnosed with dementia. Liz's determination to challenge the stigma of dementia led her to open her home to Stephen Nolan and his camera crew, who filmed the fly-on-the-wall documentary Story of a Lifetime.
In the documentary Liz states, "I'm so proud of all my family, and I think that's what makes me keep on going. At least when I go, they know how I have tried to change the views of people about dementia and maybe helped a few people along the way. Lastly, just one line that I have as a person, and I say it to everyone you know, 'I have dementia, but I'm still me.'"
Liz had a wonderful way with words and we would like to share this beautiful poem she wrote around one year ago. Her legacy will eternally remain embedded in the ethos of Dementia NI. She will forever be in our thoughts and will be sorely missed by us all.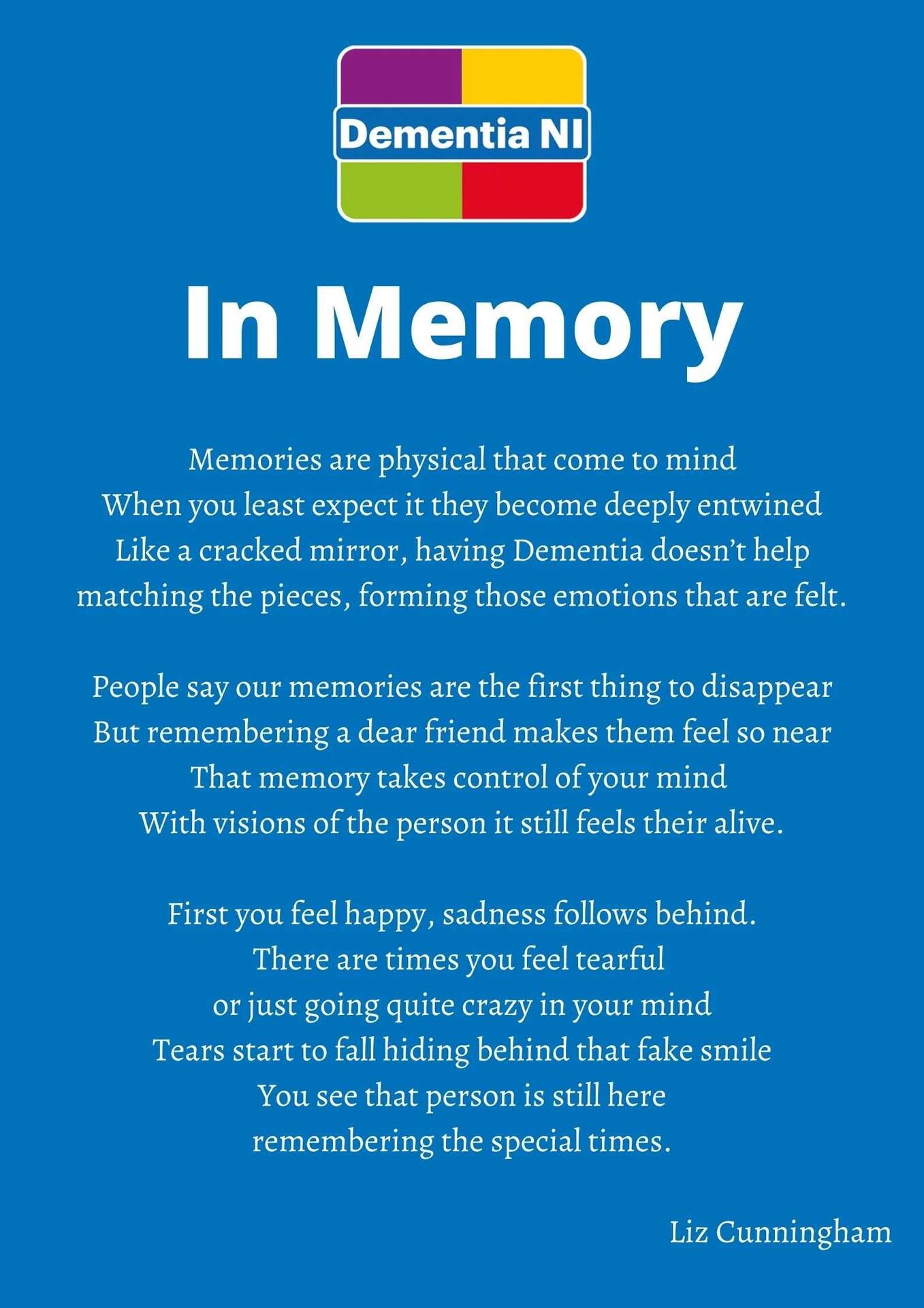 Our heartfelt sympathy goes to her family, friends and all those who knew and loved her.
Liz's Service of Thanksgiving will be held in Whitehouse Presbyterian Church on Monday 15th August at 1.30pm.
No flowers please by request. Donations in lieu if desired to NI Hospice, c/o Stephen McCosh Funeral Directors 117-121 Shankill Road, Belfast BT13 1FD.
The family have requested that anyone attending the funeral to please dress in the brightest of colours, no black.
For those unable to make the service in person, please use the following link to watch online via YouTube:
Liz Cunningham - Service of Thanksgiving - 15th August - 1:30pm