Hello, my name is Liz. I am married to Frankie and he is a member of Dementia NI. Throughout my life I have been known as a daughter, a sister, a friend, a wife, a mother, a grandmother and now as a carer for Frankie. I am not sure how this happened, as Frankie and I have been married for over 50 years and we have always cared for each other, but that seems to be my new title.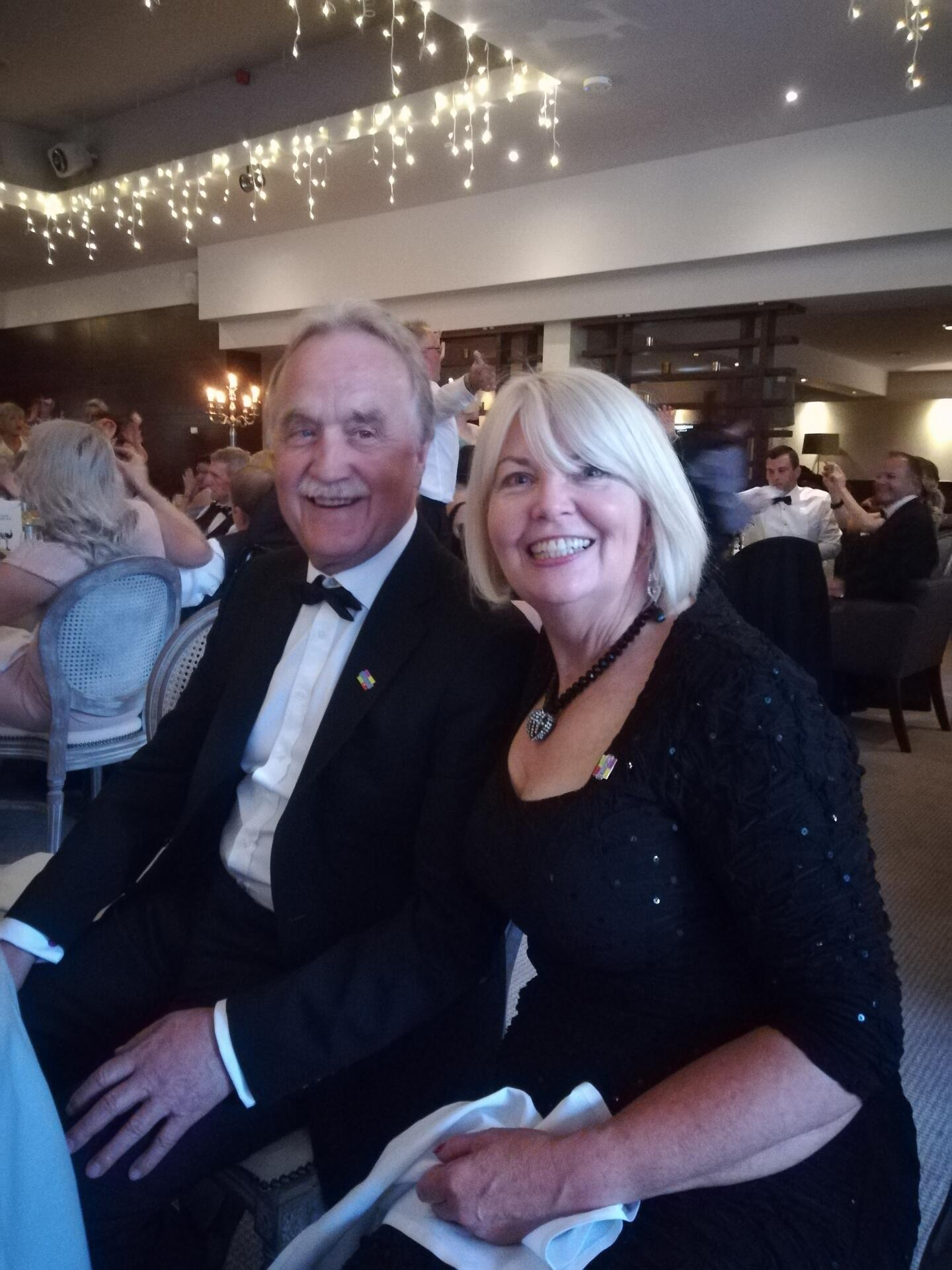 Frankie was diagnosed in 2017 with Lewy Body Dementia and although he ceased to drive following his diagnosis, he was still very capable with all the normal daily tasks in life and was even a dab hand with the vacuum cleaner. Frankie was originally being treated for anxiety and depression for over a year. I had questioned his GP on quite a few occasions for I had always thought that when someone was depressed they didn't really care about themselves or life in general; but apart from seemingly losing his confidence, Frankie still looked after his appearance and, as a couple, we still did the normal things. The GP tried to reassure me that it was clearly mental health issues, but when Frankie started to have hallucinations and falls, my sons and I made the decision to take Frankie to see a consultant privately, and following a scan were given the proper diagnosis.
I first encountered Dementia NI at a dementia event about a week after Frankie was told he had dementia. I am not really sure how I got this email inviting me, but my son and I duly went along. There were lots of people offering advice about the future and a doctor gave a talk on dementia. The truth was, I wanted to run out the door, but I did not.
My son and I went to various meetings to understand what we needed to do as a family and what lay ahead, but it was at this particular meeting where we met the Dementia NI team. As I was leaving at the end of the event, a lady who had been standing at the Dementia NI table spoke to me, for I think I may have looked a little emotional. She was very reassuring; gave me her business card, said she was going on holiday but told me to ring her in a few weeks. My son and I left with an arm full of leaflets, and when I got home, I started to read through them, but the business card I had been given was for a curtain making service. I didn't think I needed new curtains, but I knew I needed to talk to someone from Dementia NI.
My son contacted the number on the leaflet, and he was told the lady who had spoken to us happened to be a member of Dementia NI and also had a diagnosis of dementia. I was put in contact with our local Dementia NI Empowerment Officer who arranged a home visit. Ashleigh came to visit us at home, but Frankie did not at first fully embrace the main support of Dementia NI. After a little persuasion Frankie decided to visit a Dementia NI group to learn more about what went on. He was not too sure at the start if this was for him but thankfully his empowerment officer Ashleigh was patient and encouraged him along the way. He soon realised that others with a diagnosis were just as normal as he and benefited from their friendship and understanding so decided to become a member of the Dementia NI Carrickfergus group.
Dementia NI has given a voice to its members and this is all credit to the founding members who have the bravery and strength to identify the needs of people living with dementia. All the members are a wonderful diverse group of people throughout Northern Ireland who still have a voice and know what their capabilities are; they work tirelessly to highlight their needs. They all know that they can and are still able to contribute in making changes, and also live life to the full. I would like to thank Tara and her team for their commitment to the members. They don't seem to understand that the families of the members get support as well, for I know I get great comfort and support knowing Frankie remained positive about his dementia from staying connected to Dementia NI. We as a family have seen Frankie's confidence grow as he has tried to be involved in as many activities as possible, using his Dementia JAM Card when needed and involving himself in various projects that highlight the daily needs of people living with dementia.
As a carer first and foremost, thank you again to the founding members of Dementia NI and to Tara and her wonderful team, I hope Dementia NI continues to grow in strength and numbers. On one occasion after his diagnosis we met a lady who had worked with Frankie, as they chatted she asked him what he was doing following his retirement. He promptly replied "I'm doing some work for Dementia NI" need I say more?