Eamonn Oakes Born 1st August 1942 Dowdalshill, Dundalk. I Grew up mostly in Liverpool and subsequently lived and worked in Coventry, Dublin, London, Belfast and Lisburn.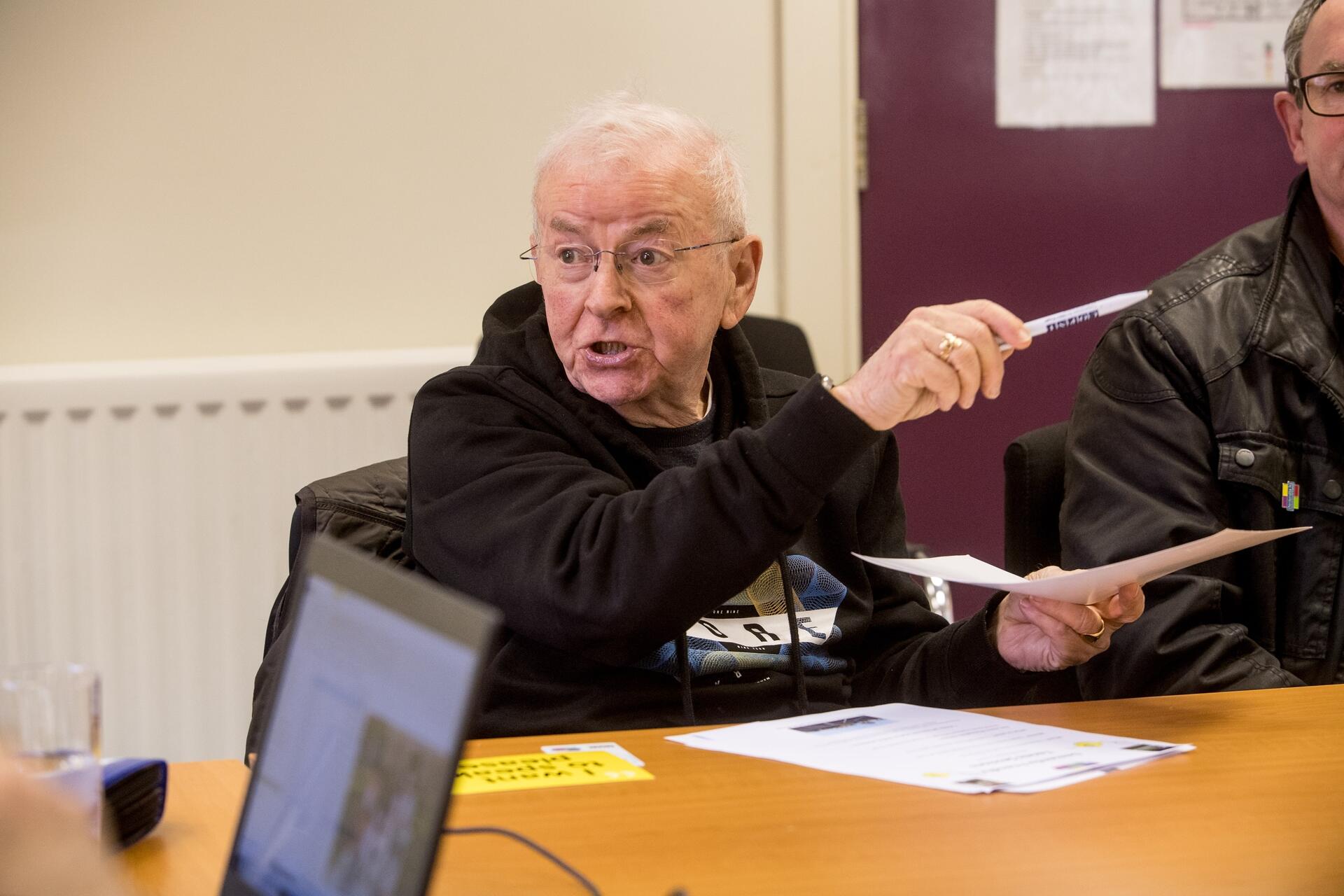 I live on my own in a flat in Lisburn and I am very close to the railway station, so I am able to travel free through Ireland and particularly locally.
My children, grandchildren and great Grandchildren all live in Lisburn or close by and I see them regularly. As well as working out in the Gym regularly I have found it very sociable and enjoyable and I have made many new friends. I have been a widower for about 15 years. My wife was born in Glasgow and I met her in Coventry.
Most days I start the day by going to the Leisureplex Gym for about an hour and a half. I also go to a Pilates class every week. I like to walk also and I play Pickle Ball regularly when I am fit. I have a friend who lives in Helens Bay and we meet up to go to Gaelige classes in Skainos in East Belfast and we often go on Holiday and socialise together.
I was nominally aware of Dementia before I decided I would like to Volunteer with Dementia N.I. But I did not Know very much about its causes and the full range of its effects. I knew it was a very challenging condition and was increasing, particularly with an ageing population. I wanted to put something back into life particularly after retiring. I had time and I wanted to find something meaningful to contribute and help to make a difference.
I subsequently became involved with Dementia N I after hearing a radio interview with some people living with Dementia and I was impressed that people living with Dementia were engaged in a wide range of activities that brought them together and got them out to meet and make new friends.I subsequently met the people concerned by chance the same day, as they were in Lisburn. It was like a Paul on the road to Damascus moment for me to discover so much meaningful and important voluntary interventions I welcome this opportunity to write about my experience of working with people with Dementia.
I have found it gives me great personal satisfaction to be able to help and make a difference for the people concerned.I have since made many friends within the Dementia N I.Family.The experience has given me an opportunity to understand Dementia and see how the group I work with work hard to embrace others living with Dementia and encourage them to participate and enhance their ability to make improvements in their lives by meeting as a group and engaging in a range of social activities that improves the quality of their life and the lives of others living with Dementia.
I believe that the group also makes a massive contribution by acting as a consultative group by explaining the experiences and the issues of everyday life to individuals and research groups working to find solutions to the range of Dementia related issues and to make meaningful findings to contribute to improving the lives of people living with Dementia.
There is lots of potential to work as a volunteer with Dementia N. I. and certainly from my experience I would encourage others to come and work as volunteers, it provides an opportunity to provide much needed help and the satisfaction of knowing that you are making a a very real difference.You can help in so many ways to improve the lives of people living with Dementia. It is important to value people living with Dementia and understand their needs and that with proper support the quality of their lives can be greatly enhanced.If you want to find out more information or you have any questions about Dementia please contact Dementia NI or other similar organisations.